Yeah, I'm still thinking about 2010. I mean, I'm totally happy to be in 2011, but I
love
thinking about what happened in the past. If I could sing, I would be breaking into "Memories" from the Cats soundtrack right now. Alas, since I cannot sing, we'll move on to a very fun top ten list: media!
I was thinking about songs, movies, etc., that I discovered in 2010, but I couldn't come up with ten things for each category. Since I'm a genius, I decided to lump them all together and make this list. Enjoy hearing about some of my favorite albums, movies, and TV shows of 2010, and then please comment with a link to your own list. I
love
reading about other people's favorites; it's how I discover new things!
Top Ten of'10: Multimedia
Albums/Artists:
Fun. Aim and Ignite
Top Song:
Be Calm
(click for audio)
One of my friends on
tumblr
posted this song early in 2010 and it was love at first sight (listen?) for me. I found all of their songs that were on YouTube and listened to them over and over and over again. Buying their CD was one of the best music decisions I've made this year. Fun. is definitely one of my favorite bands.
Ben Kweller's self titled album
My good friends Seth and Julie made me a mix CD for my 22nd birthday and included this song by Ben Kweller. Eventually I procured the whole album and then proceeded to make it one of my road trip CD's. Wonderful stuff!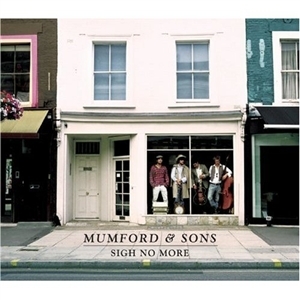 Mumford and Sons Sigh No More
I hate jumping on the bandwagon, but that's kind of what I did with Mumford and Sons. They were popping up everywhere (tumblr, facebook, conversations with friends) and I couldn't ignore them anymore. One thing that really made me fall in love with them is their music video for The Cave. So strange but so intriguing.
Florence and the Machine Lungs
If you didn't discover this from my other favorite albums, I really only listen to male singers. Therefore, when I realized that I really liked Florence and the Machine, it was like an epiphany. I listened to this album so many times on Grooveshark before I made the commitment and found it at Target (the holiest of all stores). Florence Welch is just the right mix of incredibly talented and incredibly strange. :]
Movies:
Harry Potter and the Deathly Hallows, part 1
Seth, Julie, and I went to see HP7 in imax and it was completely worth the $20 ticket. I've grown up reading Harry Potter, so the quality of the movies has been very important to me. The first installment of the last movie was amazing. No joke. If you haven't seen it, you're missing out.
Alice in Wonderland
Seth and I had to drag Julie to this movie (obviously I only see movies with these two, haha). Many, many thanks to Julie for suffering through the movie for us. I loved the trippy aspect of Tim Burton's Alice in Wonderland, as well as Depp's portrayal of a truly Mad Hatter.
Television:
Raising Hope (Tuesday at 9PM on Fox)
A wonderfully hilarious show all about a new dad raising his daughter with the help of his parents and senile grandmother. This show is a family favorite at our house. We can't help but laugh the whole time it's on.
Doctor Who, series 5
This was the year I fell in love with Doctor Who. I found a website where I can watch the episodes the day after they air in the UK, so I'm officially back in Doctor Who mode (especially after watching the Christmas special last night). If you like sci-fi/fantasy shows with a little bit of cheesy-ness, then Doctor Who is for you. If you ask nicely I'll even share the link to the website where I watch all the episodes. :]
Community (Thursdays on NBC)
I finally got into Community this past fall and I can't believe that I waited so long to being watching it. I have to say, my favorite character is Abed. The stop motion episode that was (supposedly) all in his head, is also one of my two favorite episodes.
Stop motion Abed breaking into song.
The other episode of note? The one where they have a giant, fight-to-the-death, paintball war.
I can't end the top ten of '10 multimedia list without one of the top YouTube videos of the year. Without further ado, "The CRCT Rap" starring Abby and Sarah. Enjoy.
Way cool. ;]
-Abby